Fragile to Agile is an Australian owned and independent
Enterprise Architecture
and
Solution Architecture
 specialist formed in Adelaide, South Australia, in 2009.  Our unique approach to architecture, which is based on our own 
Integrated Architecture Framework
, is inclusive of business, people and technology design at both an enterprise and solution level. It is specifically designed to resonate with both business executives and technologists and has been adopted by organisations within Australia and Europe. Our independence from both product vendors and system implementers ensures that we are not conflicted in designing and delivering the optimal architecture for any organisation. It also enables us to focus entirely on delivering tangible business value to our clients.
The pace of change in the external environment continues to increase, requiring organisations to design and deliver change more quickly and effectively than its competitors to thrive. An agile organisation is established on a foundation of dynamic business processes served and enabled by flexible technology services. However, without close alignment between strategy and delivery, business agility remains a lofty and elusive goal. Business capability driven Enterprise Architecture bridges the gap between strategy and execution and provides confidence that an organisation is
doing the right things
and
doing things right
to achieve a material uplift in its agility. Fragile to Agile's passion is to assist organisations to design an agile target state, driven by their business strategy, and mapping the transition to that target state. Our seamless and fully integrated approach to designing change is inclusive of all of the elements required for success which is based on the following philosophy:
Business, people and technology design must be aligned and driven by business strategy if an organisation is to successfully deliver its business intent, maximise agility and minimise cost and risk.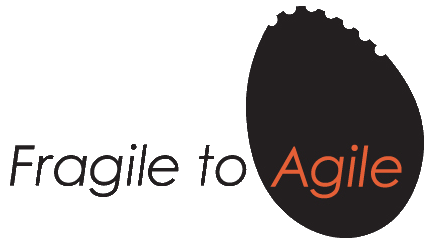 Our engagements start with business stakeholder consultation to understand an organisation's long term business strategy and its short to medium term business outcomes. As testimony to our business first approach and its inherent accessibility at an executive level, we are more frequently engaged by senior business executives rather than IT.
Our value proposition is encompassed in our name – to materially uplift an organisation's agility. We contend that a modern technology environment, appropriately architected, will deliver a step change in efficiency, time-to-market, cost-to-income ratio, customer service insight and the ability to adopt new technologies more rapidly.  As there are no technology blockers to achieving this, it is simply a matter of appropriately governed execution of change.
Why Fragile to Agile? If your organisation is not making this change, one or more of your competitors are likely to be and that makes you automatically vulnerable.