Integrated Architecture Framework
To achieve a truly agile organisation, Enterprise Architecture must incorporate all domains of design, specifically business, people and technology. The absence of this design alignment will prevent the transition to a materially more agile state. Consequently, a single framework needs to be used to initiate and inform all
domains
of architecture and design.
Equally, a single framework needs to be used to initiate and drive all levels of architecture and design. Using a separate approach for Enterprise and Solution Architecture disciplines results in solutions that are not strategically aligned; unclear responsibility boundaries between both disciplines; Enterprise Architecture being regarded as a blocker to change; shelf ware Enterprise Architecture and, ultimately, its abandonment.
To ensure strong business engagement across all aspects of architecture, the Fragile to Agile Integrated Architecture Framework was designed to be understood by both business representatives and technologists. This reinforces that Enterprise Architecture is not just about IT but must encapsulate the whole enterprise, of which IT is just one component.
The Framework was also developed to achieve a seamless architecture driven approach for business change initiatives across all levels of design. Therefore, it supports all elements of business change activity including strategic planning (translating strategy into execution); conceptual design (from project initiation to business case); logical design, and physical delivery of the change (SDLC). The Framework can, and has been, successfully used to redesign each of these elements of the end-to-end business change process within organisations.
The following diagram illustrates the Fragile to Agile Integrated Architecture Framework. It is most easily visualised and understood as a two dimensional matrix with domains of design on the vertical axis and levels of design on the horizontal axis. The domains and levels depict the order in which the design should be conducted and the Framework enforces their alignment: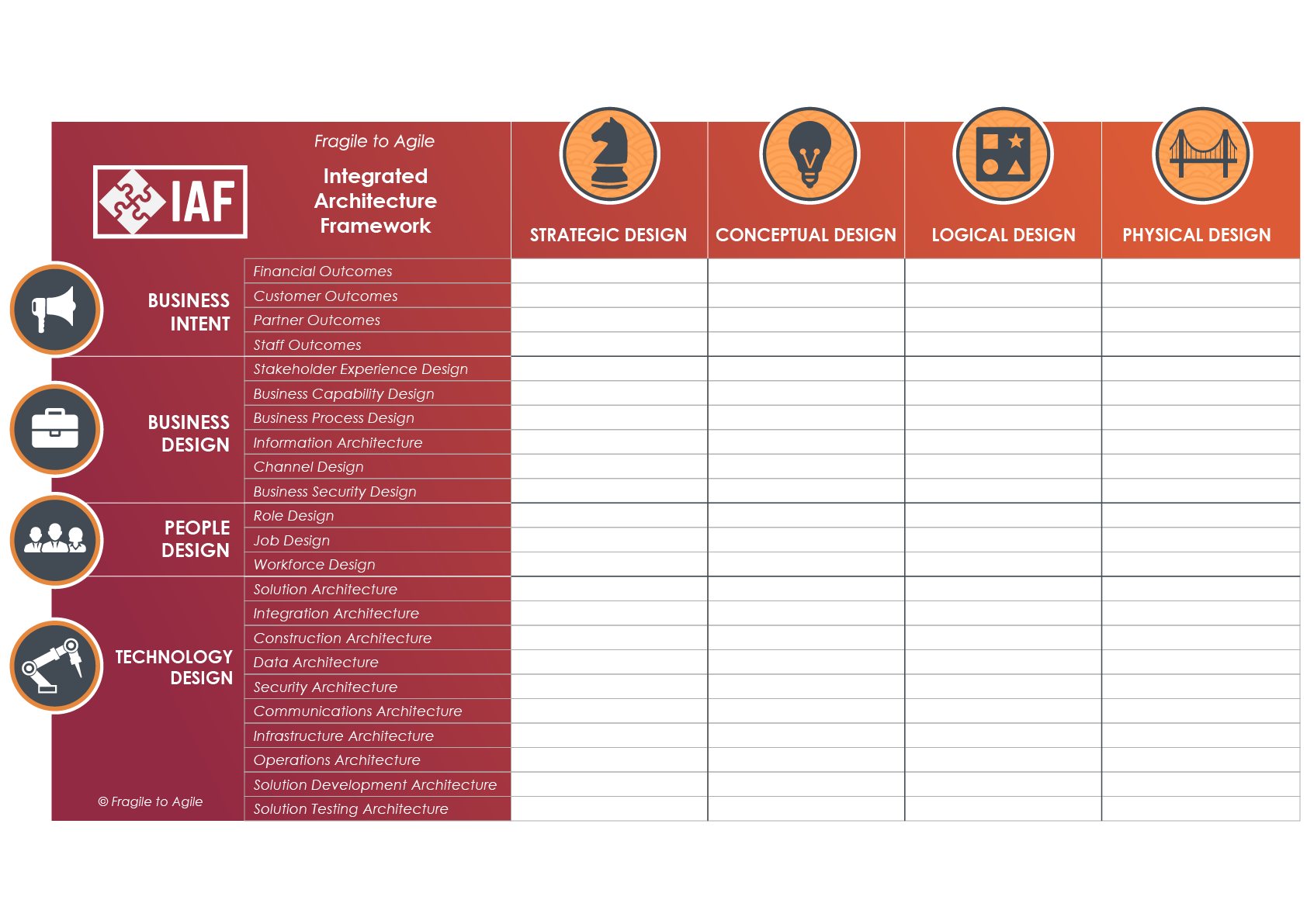 The domains of design are broken into four categories i.e. Business Intent, Business Design, People Design and Technology Design. The Framework was deliberately designed to be extensible so that additional domains of design can be added (or removed) to suit an organisation's needs. For example, it is common for government or not-for-profit organisations to change the domains for Business Intent, often adding whole-of-government outcomes.
The domains of design in the Framework represent all of the different perspectives that need to be considered which form part of an organisation's architecture, enterprise and solution i.e. Business Intent, Business Design, People Design, Technology Design and the order in which the design should be conducted.
The following diagram illustrates how the various domains of the Framework relate: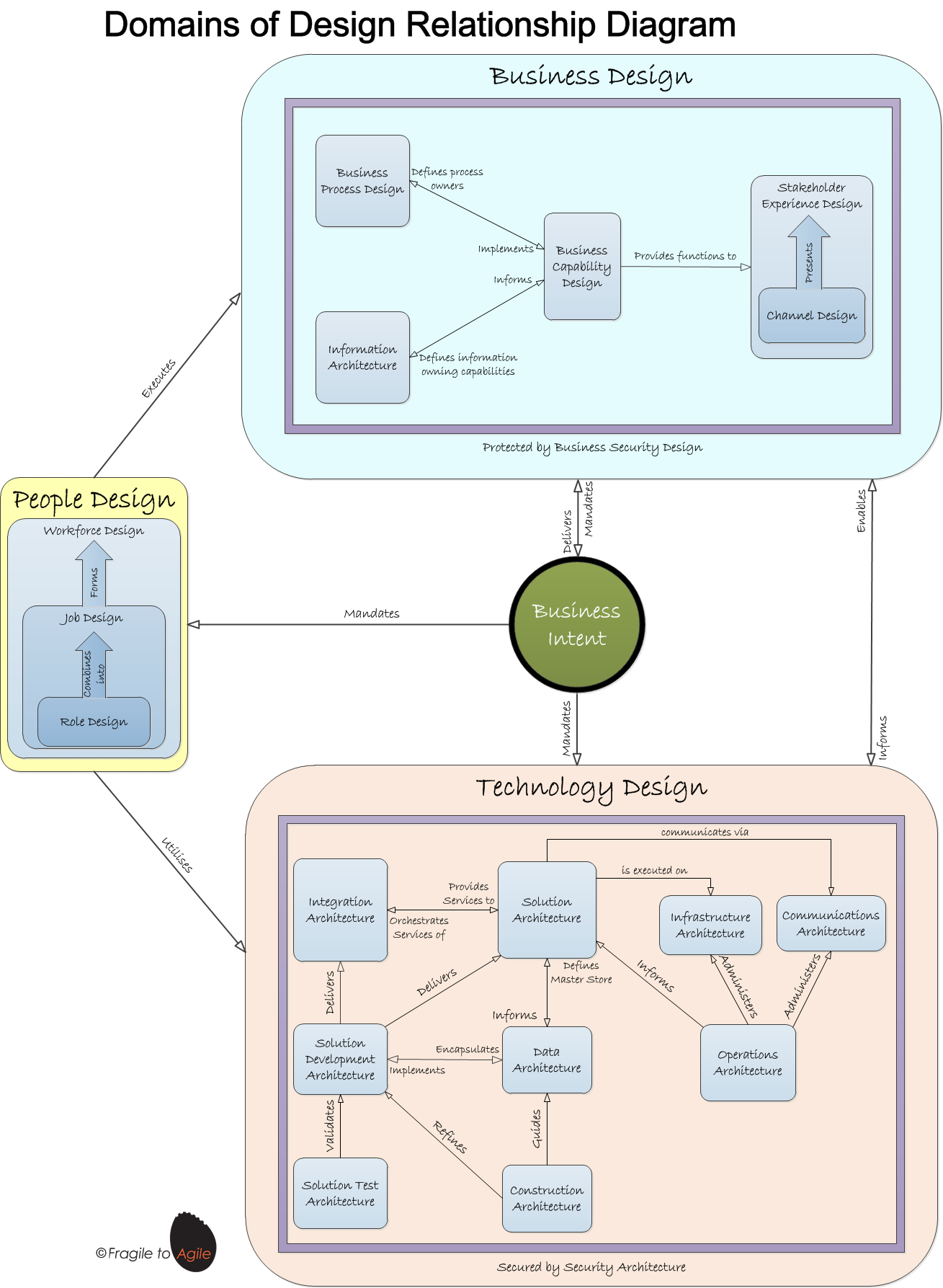 Fragile to Agile Technology Domain Relationship Diagram
The levels of design within the Framework facilitate the detail or abstraction of the design. The four levels, which have been widely recognised in architecture and design disciplines, both within and external to IT, are strategic, conceptual, logical and physical in order of decreasing abstraction. Whilst these general levels of design have been long standing and predate Enterprise Architecture, they are often poorly defined even outside of the Enterprise Architecture discipline.
The levels are described below:
Strategic Design Level
The strategic design level articulates a high level abstract view of an organisation's business strategy (intent) and the consequent set of principles for each domain of design that need to be adhered to if the business outcomes are to be enabled and achieved.
Conceptual Design Level
The conceptual design articulates a view of the desired project's intent, outcomes, roles and technology needs. This level of design is targeted at senior management and is analogous of the floor plans that building architects use for their customers when discussing the conceptual design for a building.
Logical Design Level (all layers)
The logical design describes the use of a formal notation and design tools to achieve a more comprehensive design to convert business intent into detailed requirements; high level business design (clean-skin business processes and capabilities) into a more detailed design (fully defined business processes and services); high level people design into specific roles and responsibilities and high level technology design into system models. Continuing the building analogy, the logical design is the equivalent of the blueprint augmented by the detail needed by various specialist contractors to perform their function in building the structure. Similarly, logical design adds the detail that clarifies the conceptual design, making it precise, unambiguous and actionable.
Physical Design Level (all layers)
The physical design describes the use of technology specific formal notation and design tools to convert detailed requirements into implementation and benefits realisation plans; detailed business design into user guides, procedures, standards and work instructions; detailed people design into training and recruitment plans; and detailed system models into domain specific models and code. Using the building analogy, the physical design is the equivalent of the bricks and mortar level of design i.e. how many bricks are needed; how deep does the foundation need to be, how the rafters in the roof will be arranged etc.